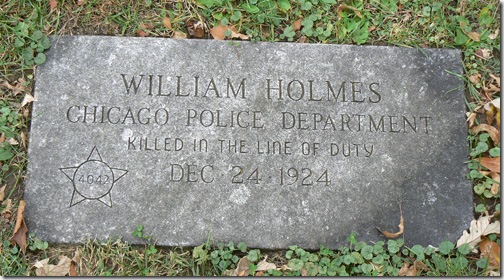 William Holmes Gravestone, Evergreen Memorial Cemetery, Bloomington, Illinois [1]
William Holmes was a Chicago police office, who died in the line of duty on Christmas Eve 1924. He was one of the 40% of Chicago police officers who were killed in action during the Dangerous Era (1920-1939).
From what I can find, William was enumerator in the 1920 census as living in Chicago Ward 2, Cook County, Illinois with his wife Mary. According to this census, he was born about 1883, which would have made him about 41 when he died.

William Holmes on the 1920 U.S. Census [2]
In the early morning hours of 24 December 1924, Officers William Holmes and Jesse McKinney set out to investigate an assault on Giles Avenue.
There in the darkness, they met two colored men, hurrying as though in fear of pursuit. Moving to draw his revolver, Policeman Homes ordered the two men to halt and throw up their hands, shouting that he was a policeman. Holmes' last words were interrupted by a shower of bullets....

With the first bullet, Holmes dropped to the ground, shot through the heart. Although he was dying, Holmes propped himself on his elbows and emptied his revolver at the gunman before he collapsed. 31]
William was taken to Wilson hospital, where he died that fateful morning.
William was buried in Evergreen Memorial Cemetery in Bloomington, Illinois. I have no idea what his ties to Bloomington-Normal are.
Sources
1. Digital image of William Holmes' gravestone at Evergreen Memorial Cemetery, taken by Julie Tarr on 1 November 2008; privately held by Julie Tarr.
2. 1920 U.S. census, population schedule, Chicago Ward 2, Cook, Illinois, enumeration district (ED) 105, sheet 26A, p. 1, dwelling 20, family 28; digital image, Ancestry.com (www.ancestry.com ).
3. "Courage in Duel With Murdered Wins Hero Prize." Chicago Tribune. 11 January 1925.
Julie